| | | | | |
| --- | --- | --- | --- | --- |
| Select a category web | Tanzania | | | |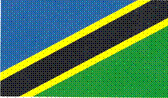 The United Republic of Tanzania
The United Republic of Tanzania is the country among Africa continent and is in Eastern Africa. Bordered by the Indian Ocean on the East; it is bordered by Kenya and Uganda to the North; Burundi, Rwanda and Democratic Republic of Congo to the West; and by Zambia, Malawi and Mozambique to the South. Tanzania also includes the Island of Zanzibar, Pemba and Mafia.

Tanzania is a democratic country because there is the RULE OF LAW which means that no person is above the Law. All people are EQUAL before the LAW.
Tanzania has about 122 (one hundred and twenty two) tribes working together with very Strong Unity; Warm; Friendly; and Hospitable People. The mostly people are BANTU and the largest one is the Sukuma and the Nyamwezi from Mwanza, Shinyanga and Tabora in the area near Lake Victoria.

The National Language of Tanzania is Kiswahili. Kiswahili is common Language in Tanzania. Most Tanzanians are speaking Kiswahili and Understand it well. The official Languages in Tanzania are Kiswahili and English as a foreign Language.